We are excited to partner with Animal Care Society to bring you Wiggle Wednesday! Wiggle Wednesday highlights a different pet each week that is available to be adopted at Animal Care Society! You can check out all of the animals they have available for adoption on their website at animalcaresociety.org!
Great news! In light of COVID-19 restrictions easing up,  we're excited to finally welcome the Animal Care Society and their adorable animals available for adoption to our studio! You can see our weekly highlighted animal on our social media pages and stories, as well as below. If you would like more information about any of the animals available for adoption, the contact information for Animal Care Society can be found below! 
Animal Care Society
12207 Westport Rd.
Louisville, KY 40245
502-426-6303
Click here to see animals available for adoption! 
NEW HOURS DUE TO COVID 19
Monday & Tuesday- Closed
Wednesday to Saturday- 11am-5pm
Sunday- 1pm-5pm
1/19/2022
Check out Chase!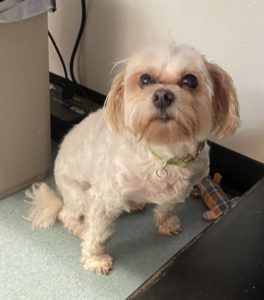 Chase is an adorable 8yr old Maltese/Bichon.  Sadly, Chase's dad passed away and his mom could no longer care for him, so he came under the care of Animal Care Society.
Chase is a little guy at 14lbs. He is good with other animals, both dogs and cats, but prefers a quiet household. While Chase is good with pets, he can be picky about his humans. Chase can be sweet and cuddly, but other times he needs his space wants to be left alone and he will let you know. Chase Loves going for car rides and out for adventures. He's very well behaved when he's out and he thoroughly enjoys food of all kinds. He has some personality quirks at home, so a patient home that will give him space at times would be ideal. Chase is in foster care so please call and schedule an appointment if you're interested in meeting him – 502-426-6303
12/22/21
Meet Milo!
ADOPTED!!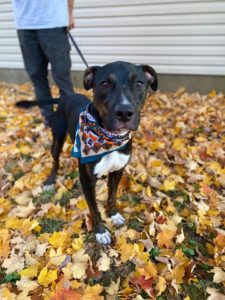 Milo has had a rough start in life. His owner moved to Texas and left Milo behind with a family member who said he would find Milo a new home. However, Milo is a big dog and the new caretaker didn't want him in the house. He was also having trouble finding someone to adopt him, so Milo stayed tied to a tree for 3 months while at this person's house, with nothing more than a few feet of room to be able to move around. Milo was eventually turned in at a local veterinary office, and they contacted ACS to see if they could help sweet Milo, and of course they said yes! How could anyone turn down this cutie?!
Milo is 1.5 years old and 55 pounds. He has a beautiful, shiny brindle coat and adorable ears. He enjoys playing with other dogs, walks nicely on a leash and is crate trained. He is truly awesome. If you are interested in meeting Milo, head over to the shelter or submit an application online at www.animalcaresociety.org!
12/16/21
Meet Dice
ADOPTED!!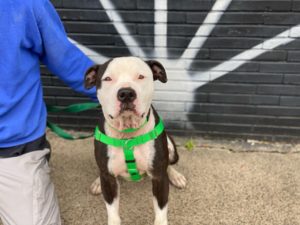 Dice is an adorable 2 year old American Pitbull Terrier that came to The Animal Care Society after his owner sadly passed away. Dice is a calm boy who loves long walks, and lounging in a bed beside his favorite people. He is a smart dog and would love the opportunity to learn tricks and commands. Dice has successfully lived with large dogs and children in the past, but would prefer a home with no cats or small animals.
12/1/21 – Kali
ADOPTED!!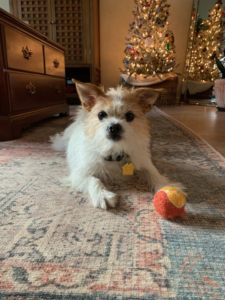 Meet Kali
Kali is a special dog looking for that special human that is right for her. You see, while Kali is small and adorable, she has some personality issues. We have been working hard to make Kali feel more comfortable in her own skin. Kali has a tendency to growl at people at random times, whether she feels threatened or just uncomfortable. We had Kali's behavior evaluated and we decided to start on her anxiety medication to hopefully curb that habit. She has been spending her time in a foster home where she is thriving. She loves her foster mom and the growling has gotten less frequent. However, her new adopter will need to be patient with her and make sure she stays on her medication. Kali has been bounced around so many times, that we want her new home to be the one that she stays in. She lives with other dogs in her foster home and does fine as long as they give her her personal space. She likes to sleep in bed with her foster, go for long walks, and play fetch. We are looking for a home with no children and one that doesn't have frequent visitors since Kali takes a while to warm up to new people. If you are interested in meeting Kali, submit an application on our website 
www.animalcaresociety.org
 so we can schedule a meet and greet. *Kali is in a foster home, not at the shelter.*
11/10/2021- Princeton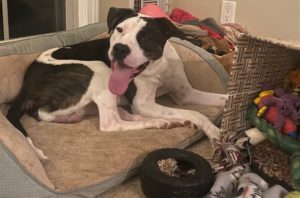 Our dog this week will be Princeton. Princeton is a ROCKSTAR! American Bulldog mix, barely a year old and is fantastic with dogs of all sizes, cats, kids and loves everyone. Princeton has been to a couple events with us where he is perfectly behaved. He loves going to the park, for car rides, trips to the store and just being around people. He can be playful with friends, but at home he also lounges around. Princeton is crate trained, even though he does really well when not crated. Prince was originally from a rural shelter where his appearance caused him to be on the dreaded list. This boy is true perfection! He deserves a home that is fantastic as he is. Come in to meet Princeton or complete an application today.
11/3/2021- Leia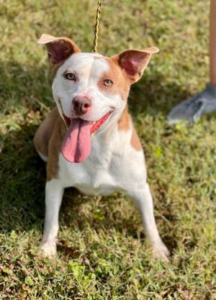 Leia came to The Animal Care Society from a rural shelter in Mississippi. Leia is about 8 months old, 40 pounds and an adorable medium-sized mixed breed pup. She is playful, loves yummy treats, and enjoys doing zoomies in the yard.  Leia is full of life and would love to have a family of her own.
10/27/2021- Bubbie, Boxer Mix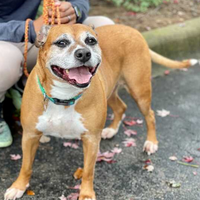 Bubbie is one of the sweetest and silliest pups there is. Bubbie is a Boxer mix and we believe he is around 8 years old. He still has plenty of pep in his step though. He loves the company of other dogs and is friendly with all people. Bubbie enjoys going for leisurely strolls around the neighborhood and riding in the car. If you are interested in this awesome doggo, stop by the shelter to meet him or submit an adoption application online at www.animalcaresociety.org.

10/13/2021- Delta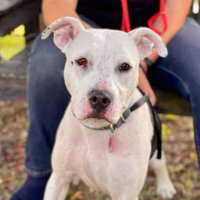 Delta came to The Animal Care Society from a rural shelter in Mississippi with her two babies. Delta is a gorgeous 2-year-old Pitbull/Pointer mix. She's a big girl with long legs for days. She loves other dogs and would love to find a home with another playful canine companion. She is not a fan of cats, however. If you are interested in adopting Delta, stop by the shelter or submit an application online at www.animalcaresociety.org.
09/29/2021- Tinsey, Pit Bull Terrier Mix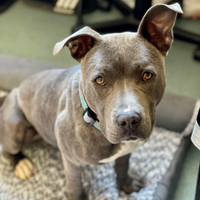 Tinsy came to The Animal Care Society from an overcrowded rural shelter. She's a gorgeous pit bull mix that we believe is around 1-2 years old. Tinsy enjoys playing with other dogs but has a rough play style, so she would do best with large dogs. She also pulls quite hard on the leash so she will need help with that. If you're interested in adopting Tinsy, stop by the shelter or submit an application online at www.animalcaresociety.org.
09/1/2021- Bonnie & Clyde, BONDED, American Bulldog Mix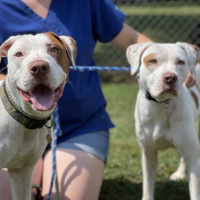 We are calling this sweet duo, Bonnie and Clyde. We believe they are 2-3 years old and weigh around 50lbs each. They came to The Animal Care Society from a rural high kill shelter in New Mexico. Bonnie is the more shy one while Clyde is a bit more outgoing. They rely on each other so we are looking for a home that can provide a comfy spot on the couch for the both of them. If you are interested in meeting this adorable pair, stop by the shelter or submit an adoption application online at www.animalcaresociety.org.